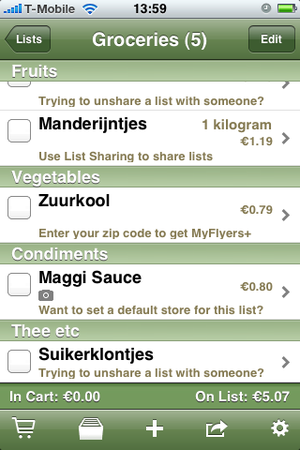 I loved Shopper for quite some time. It was one of the first (paid) apps I bought for my iPhone, and I have stuck with it for over a year. Recently though, the business model the developers have chosen started to irk me. I started getting 'suggestions' and 'FDA alerts' (whatever that means).
With the latest update, they introduced ads. Ads in a paid app. I have not yet received my iPhone back, but I looked at the screenshots and read what other users wrote. Their screenshots don't show the real result, and in fact, the screencast on the website shows no sign of these annoying 'features'.
p(clear). They state on their website (in the forums):
bq.. As you might have noticed, we have introduced a messaging capability to Shopper with this release. We are using it to deliver a number of different types of alerts, hints (based on your feedback) and brand messages. We think there are a lot of innovative and useful things we can do with this capability. Over the past week, over 14,000 people have checked out an alert from the FDA or USDA and 30,000 people have checked out a Shopper usage hint. So while they don't please everyone, a great number of users find these features helpful.
p. So, not only do they introduce an annoying 'feature' they also track your clicking behaviour. First of all, you can't really avoid clicking on one of those stupid 'messages' because they clutter your screen and get in the way. Second, eh.. hello... wtf do you check what I click on? They may or may not have mentioned that in the t&c, accessible from inside the app, so no way to read before you buy.
They also write:
(...) just so you know, the costs associated with all of the recent upgrades are now much greater than the $0.99 download fee. So in order to keep the platform up and running, while continuing to build your suggestions into the most capable shopping app available (including this months addition), brand sponsorship is needed. We hope you understand and stick with us, but if not - we will be offering an opt-out subscription in the next release (...)
I can only imagine that this opt-out subscription will consist of a paid subscription. When I bought Shopper, it cost me around €3, a price I happily paid. Why on earth they didn't keep it there, or even now increase the price, still baffles me.
Instead, they have chosen a business model that forces ads onto loyal users, defending it with numbers and the current low price. When you as a company choose to take the more expensive route -- not necessarily a bad thing -- you of course have to get that money from somewhere. But with ads in an already-paid-for-app? Seriously?
Goodbye, Shopper, too bad our relationship had to end so horribly.