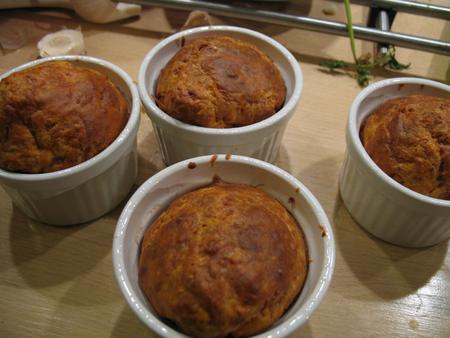 On the lookout for tasty easy snacks to make my life without a stomach a breeze, I happily stumbled over Kay's foodblog. This Dutch Girl Cooking has plenty of tasty and easy to make recipes accompanied by beautiful photography that makes my mouth water.
Now, my photos don't even come close to hers, but check the photo for the results of my attempt to make Pizza muffins! The recipe didn't ask for any weird stuff, I basically had everything. I did replace the pizza sauce with some home made pasta sauce which made them a bit sweeter (next time I'll use pizza sauce, I promise). I made a small batch, liked it, and then realised I had a lot of dough left. I froze it in batches, so now I only have to take one out, put it in a small ovendish and heat up that muffin. The ones on the photo turned out a bit too large for me, I adjusted the frozen batch accordingly. Also, because I don't eat ham I added an extra load of Gouda cheese :)
I don't like sweet stuff very much, and these savoury muffins just make my day.