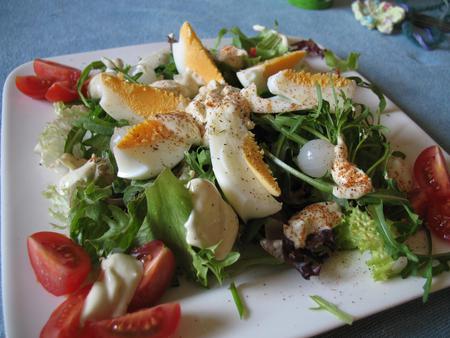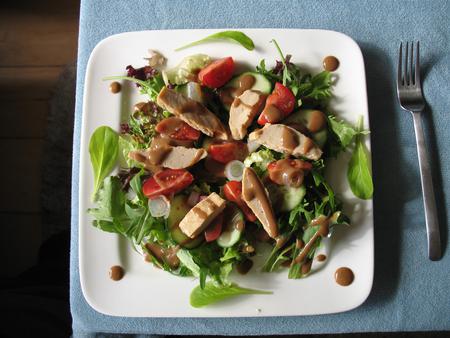 I haven't drawn in a while, even though I want to. I can't seem to muster up the will or the courage, or whatever. I have also spent more time gardening, the season started again after all. I've sown plenty of plants and herbs, some didn't work and some I killed. Others seem to do fine and I'll put them out as soon as possibly.
I've channeled my few creative juices towards making myself salads, yesterday and today. I even went as far as buying a plate for the purpose. Salads look so much better on a white plate than on a blue-grey one.
Although the balcony has yet to produce a complete salads, I have used bits of balcony-plants to make my salads. I've sown a lot of salad-related plants, so guess what I'll eat a lot of ;)
The first one I made today, with mixed lettuce, arugula, cherry tomatoes, pickled onions and an egg from the store, drizzled with a blendered tofu dressing mixed up with some olive oil, vinegar, lemon juice and herbs from the balcony (chives, spring onion, garlic greens and leaf celery). It got a bit chunky, like mayonnaise, so I blopped it on. I then sprinkled some salt, pepper and spicy paprika over the dish. Tasted great.
The second one I made yesterday, with the same mixed lettuce, arugula, pickled onions, and cucumber. I threw a few pieces of quorn filet on it and drizzled it with a mixture of yo-fresh (mayonnaise made with yoghurt), mustard, honey and balsamic vinegar. The lighter and small green leaves on the edge of the plate came from the balcony, and I added a few tiny sprigs of balcony-arugula.
Still working on those salad skills...